Funny Piet Mondrian after party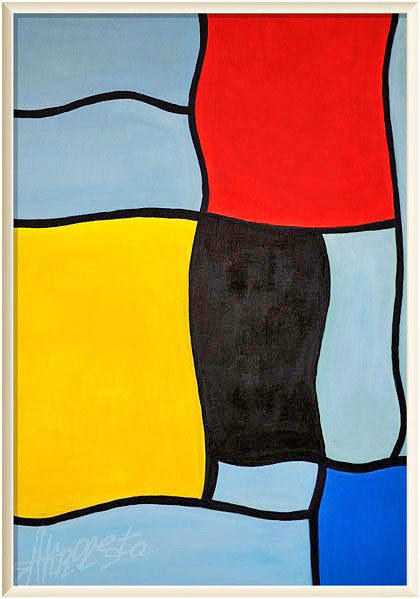 Canvas, acrylic, 50x70cm. 2019
Piet Mondrian (Pieter Cornelis Mondriaan) - an artist who painted abstract paintings. The principle of his painting - pure colors that fill the space between the straight black - vertical and horizontal lines.
But when Pete drank a little ... the lines curved a little.
Friendly improvisation in memory of a great artist.
Exhibitions:
Personal exhibition "SmartArt". 2021. Lithuania. EU.
Personal exhibition Ironic homage. 2021. Ukmerge, Lithuania.
Media:
The history of art in Akrolesta's paintings. Homsk media. 17 April 2019. (Illustration)
JazzArt - improvisations on the themes of the great painters. Discours magazine. 23 April 2019 (Illustration)
The history of art in Akrolesta's paintings. Miscellany Artifex. 24 April 2019 (Illustration)
Worlds of Akrolesta. Culture and art 14 May 2019 (Illustration)
The constellation Akrolesta. Syg.ma. 19 May 2019 (Illustration)
Treasures of Akrolesta. Homsk. 20 May 2019 (Illustration)
From the history of painting. Culture and art. 10 July 2019 (Illustration)
Akrolesta's collections. Teletype. 24 August 2019. (Illustration)
Art Stories from Akrolesta. Syg.ma. 7 September 2019 (Illustration)
Smart Art. Kas Vyksta Kaune. 23 march 2021 (Illustration)
Bendravimo būdas, kuriam nereikia vertėjo. Vilkmerge. 2021-04-03 (Illustration)
Smart art by Akrolesta: art is communication that doesn't need translation. DELFI. March 28, 2021 (Illustration)
Naujos Akrolestos parodos. Vilkmerge. 2021-09-26