Yoko-gamma. One second before John Lennon"s meeting with Yoko Ono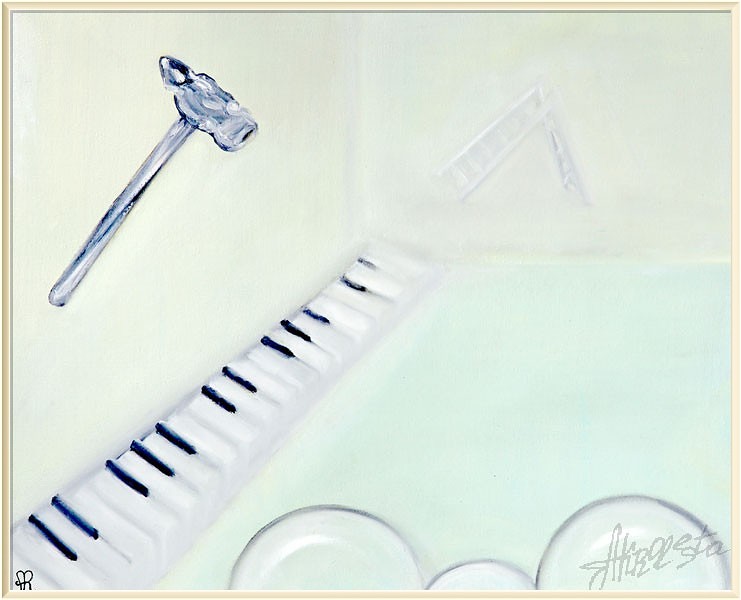 Oil, canvas, 50x40. 2018
An outstanding artist of the 20th century, Yoko Ono met John Lennon at her exhibition, where John Lennon first climbed the stairs and scored an imaginary nail, paying for it an imaginary shilling. And then they got married and told to the world that "War is Over (If You Want It)".
"Yoko Ono is a Japanese multimedia artist, singer, songwriter, and peace activist who is also known for her work in performance art and filmmaking. She performs in both English and Japanese. She is known for being the second wife and widow of singer-songwriter John Lennon of the Beatles.
She spent some time at Sarah Lawrence College and then became involved in New York City"s downtown artists scene, which included the Fluxus group. She first met Lennon in 1966 at her own art exhibition in London, and they became a couple in 1968 and wed the following year.
Yoko Ono received a Golden Lion Award for lifetime achievement from the Venice Biennale in 2009 and the 2012 Oskar Kokoschka Prize, Austria"s highest award for applied contemporary art.
As Lennon"s widow, Ono works to preserve his legacy. She funded Strawberry Fields in Manhattan"s Central Park, the Imagine Peace Tower in Iceland, and the John Lennon Museum in Saitama, Japan (which closed in 2010). In 2012 Ono received the Dr. Rainer Hildebrandt Human Rights Award.
Fluxus, a loose association of Dada-inspired avant-garde artists that developed in the early 1960s, was active in New York and Europe. Ono visited London to meet artist and political activist Gustav Metzger"s Destruction in Art Symposium in September 1966, as the only woman artist chosen to perform her own events and only one of two invited to speak.
There are two versions of the story of how Lennon and Ono first met. According to the first account, on November 9, 1966 Lennon went to the Indica Gallery in London, where Ono was preparing her conceptual art exhibit, and they were introduced by gallery owner John Dunbar. Lennon was initially unimpressed with the exhibits he saw, including a pricey bag of nails, but one piece, Ceiling Painting/Yes Painting, had a ladder with a spyglass at the top. When he climbed the ladder, Lennon felt a little foolish, but he looked through the spyglass and saw the word "YES" which he said meant he didn"t walk out, as it was positive, whereas most concept art he encountered was "anti" everything.
Lennon was also intrigued by Ono"s Hammer a Nail. Viewers hammered a nail into a wooden board, creating the art piece. Although the exhibition had not yet opened, Lennon wanted to hammer a nail into the clean board, but Ono stopped him. Dunbar asked her, "Don"t you know who this is? He"s a millionaire! He might buy it." Ono supposedly had not heard of the Beatles, but relented on the condition that Lennon pay her five shillings, to which Lennon replied, "I"ll give you an imaginary five shillings and hammer an imaginary nail in."
Exhibitions:
Personal exhibition "JazzArt". 2018. Lithuania. EU.
Media:
The history of art in Akrolesta's paintings. Homsk media. 17 April 2019. (Illustration)
JazzArt - improvisations on the themes of the great painters. Discours magazine. 23 April 2019 (Illustration)
The history of art in Akrolesta's paintings. Miscellany Artifex. 24 April 2019 (Illustration)
From the history of painting. Culture and art. 10 July 2019 (Illustration)
Art Stories from Akrolesta. Syg.ma. 7 September 2019 (Illustration)