Worlds of Erik Bulatov (Freedom)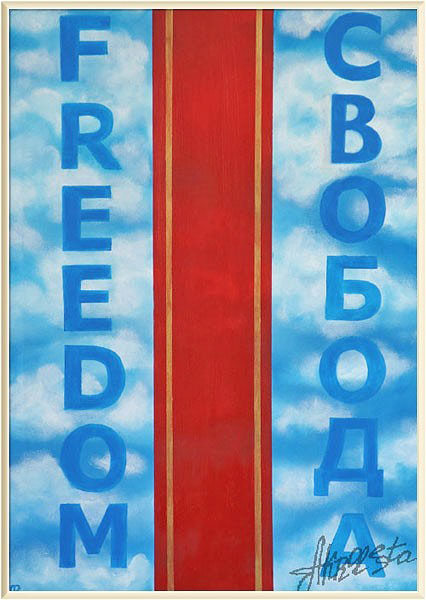 Oil, canvas, 50x70. 2018
Eric Bulatov is one of the greatest artists of Soviet unofficial art, of underground. His paintings often combined images and inscriptions. In his painting "Horizon" red carpet becomes an insurmountable barrier for those who want to escape from the harsh embrace of Soviet reality.
Erik Bulatov is a Russian artist, who was raised in Moscow. Bulatov"s works are in the major public and private collections in Europe, Russia and United States.
Exhibitions:
Personal exhibition "JazzArt". 2018. Lithuania. EU.
Media:
In search of meaning. Above Art Magazine. 16 Jan 2019 (Illustration)
The history of art in Akrolesta's paintings. Homsk media. 17 April 2019. (Illustration)
JazzArt - improvisations on the themes of the great painters. Discours magazine. 23 April 2019 (Illustration)
The history of art in Akrolesta's paintings. Miscellany Artifex. 24 April 2019 (Illustration)
From the history of painting. Culture and art. 10 July 2019 (Illustration)
Interview with Akrolesta. In search of meaning. Medium. 23 august 2019. (Illustration)
Art Stories from Akrolesta. Syg.ma. 7 September 2019 (Illustration)