A way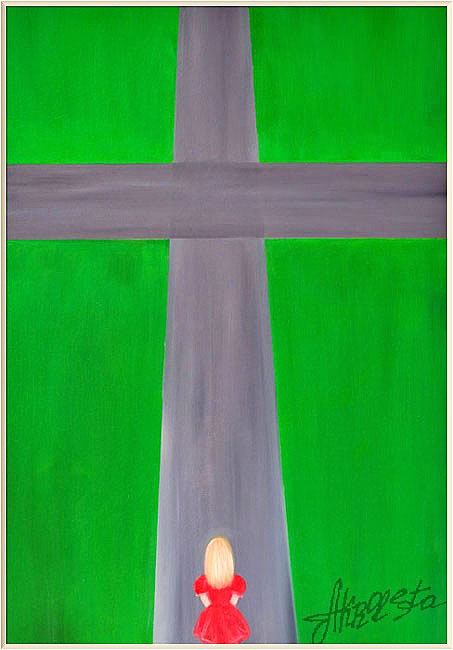 Oil, canvas, 50x70cm. 2017-2018
Any person, like the girl in the painting, is faced with the problem of choosing a path. You can walk the beaten path trodden by someone else. You can find your way and walk across the field. Everywhere the end will be the same. The important thing is how you walk your path, what you create or destroy along the path of your life. Everyone has to choose their own path and carry their own cross.
Exhibitions:
Personal exhibition "View". 2017. Lithuania. EU.
Personal exhibition "Retrospective. Favorites." 2021. Lithuania. EU.
Media:
Rusų pora Maskvą iškeitė į Ukmergę: kol valdžia nepasikeis, negrįšime. 15min.lt. Lithuania 20 April 2017. (Illustration)
Exhibition of paintings by Tatiana Sokolova "View". Ukmerges kulturos puslapiai. Lithuania. 12 Jul 2017. (Illustration)
Paintings-aphorisms - talking paintings by Tatiana Sokolova. Moiarussia.ru Russia 7 Dec 2017. (Illustration)
Paintings-aphorisms - talking paintings by Tatiana Sokolova. Media Mag catalog. (Illustration)
Visualization of the invisible. Magazine "Cosmo lady". Ukraine. June 2018. pp 110-112. (Illustration)
In search of meaning. Above Art Magazine. 16 Jan 2019 (Illustration)
Feminism in the work of artist Akrolesta. Above Art Magazine. 06 Feb 2019. (Illustration)
Akrolesta - symbols and allegories in the art of the 21st century. Iskusstvo.pro. 29 March 2019 (Illustration)
Akrolesta - symbols and allegories in the art of the 21st century. Miscellany Artifex. 16 April 2019 (Illustration)
Symbols of Akrolesta. Syg.ma. 18 April 2019 (Illustration)
Smart paintings. Homsk media. 07 June 2019 (Illustration)
Visualization of the invisible. Woman's Era Magazine. July 2019. pp 112-114. (Illustration)
Akrolesta's feminism. Sig.ma. 04 July 2019 (Illustration)
Visualization of the invisible. Culture and art. 8 August 2019. (Illustration)
Mirror for the viewer. Syg.ma. 18 August 2019 (Illustration)
Feminism on canvas. Homsk media. 21 August 2019 (Illustration)
Interview with Akrolesta. In search of meaning. Medium. 23 august 2019. (Illustration)
Visualization of the invisible. Homsk media. 31 August 2019 (Illustration)
New feminism. Culture and art. 16 September 2019 (Illustration)
Visualization of the invisible. Syg.ma. 3 Oktober 2019. (Illustration)
Art for the brain. Culture and art. 5 October 2019. (Illustration)
Century of symbols. Culture and art. 1 November 2019. (Illustration)
Art for the mind. Discours magazine. 08 January 2020 (Illustration)
Parodoje "Retrospektyva. Mėgstamiausi" pristatomi Akrolestos darbai. Vilkmerge. 2021-10-13
Akrolestos retrospektyva. Ukmergės renginių anonsai. 23 October 2021 г.
Šeštoji menininkės paroda. Gimtoji žemė. 2021/10/28
Искусство - свобода слова. LRT. Интервью и обзор выставки. 27.11.2021 (TV)