Vanishing landscape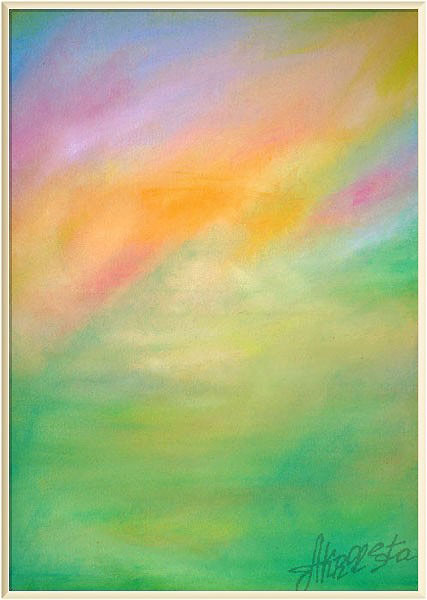 Oil, canvas, 50x70cm. 2018
Painting from the collection of Light Art

The focus in Light Art is not on details and lines, but on color solutions. The artist does not try to convey the impression of the image, landscape, movement, but conveys sensations, a premonition of something - a landscape, an idea, an object.

Light Art is paintings-sensations, pictures-presentiments, pictures-memories.

Light Art is the feeling that a gourmet has before it starts tasting a dish, or the feeling of a traveler, when right now, around the bend, something that he long and passionately wanted and waited for will arise.

Light Art - this is a premonition - this is when the image has not yet manifested. Like stains on photo paper during the development process, as something that pops up in memory, like the outlines of a landscape at dusk, in a fog ...

Light Art is when the object is not yet there, but it is already felt, guessed.
Exhibitions:
Personal exhibition "RelaxArt". The Seimas Palace. Vilnius. Lithuania. EU. 2021
Personal exhibition "Retrospective. Favorites." 2021. Lithuania. EU.

Media:
Akrolesta's LightArt. Above Art Magazine. 9 March 2019 (Illustration)
Game with the viewer. Sigma. 15 June 2019 (Illustration)
Escaping reality. Homsk media. 22 July 2019 (Illustration)
Mirror for the viewer. Syg.ma. 18 August 2019 (Illustration)
The true figurative abstraction. Culture and art. 24 august 2019. (Illustration)
Ukmergės menininko paroda Lietuvos Respublikos Seime. Vilkmerge.lt 2021 July 18.
Naujos Akrolestos parodos. Vilkmerge. 2021-09-26
Parodoje "Retrospektyva. Mėgstamiausi" pristatomi Akrolestos darbai. Vilkmerge. 2021-10-13
Akrolestos retrospektyva. Ukmergės renginių anonsai. 23 October 2021 г.
Искусство - свобода слова. LRT. Интервью и обзор выставки. 27.11.2021 (TV)
Татьяна Соколова: Искусство – это свобода слова. LRT новости. 2021.11.28