Feminism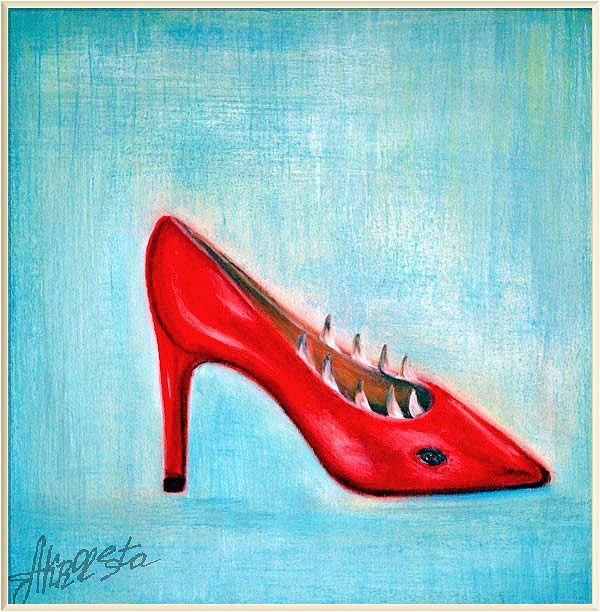 Oil, canvas 40x40. 2017-2018
Sharp, dangerous, bitchy. Dressed in red high-heeled shoes, the woman seems to show her sharp teeth and warns that it is dangerous to mess with her. At the same time, heels do not allow you to stand firmly on two legs, and the red color not only attracts the eye, but also signals danger.
Exhibitions:
Personal exhibition "SmartArt". 2021. Lithuania. EU.
Personal exhibition Woman's World. Lithuania. EU. 2021
Personal exhibition Without frames. 2021. Ukmerge, Lithuania. EU.
Media:
Visualization of the invisible. Magazine "Cosmo lady". Ukraine. June 2018. pp 110-112. (Illustration)
Feminism in the work of artist Akrolesta. Above Art Magazine. 06 Feb 2019. (Illustration)
Visualization of the invisible. Woman"s Era Magazine. July 2019. pp 112-114. (Illustration)
Akrolesta's feminism. Sig.ma. 04 July 2019 (Illustration)
Visualization of the invisible. Culture and art. 8 August 2019. (Illustration)
Feminism on canvas. Homsk media. 21 August 2019 (Illustration)
Visualization of the invisible. Homsk media. 31 August 2019 (Illustration)
New feminism. Culture and art. 16 September 2019 (Illustration)
Visualization of the invisible. Syg.ma. 3 Oktober 2019. (Illustration)
Art for the mind. Discours magazine. 08 January 2020 (Illustration)
Visi keliai veda į Menų garažą "Būk alternatyva". Vilkmerge. 29 Aug 2021 (Illustration)
Из цикла "Выжившие". DELFI, 15 сентября 2021 г. (Video)
Naujos Akrolestos parodos. Vilkmerge. 2021-09-26