In the Peter Paul Rubens"s workshop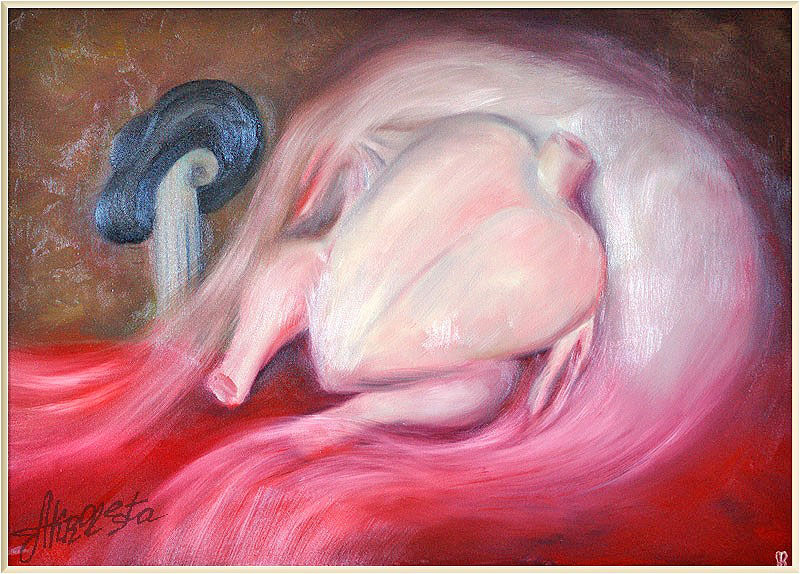 Oil, canvas, 70x50cm. 2018
Peter Rubens was one of the typical representatives of "court painting". Since Playboy and Penthouse were not yet sold in the 17th century, Rubens drew paintings for classical aristocrats and merchants on classical mythological and biblical themes. His paintings, full of naked female bodies, had a great success among male customers.
"Sir Peter Paul Rubens (1577 – 1640) was a Flemish artist. He is considered the most influential artist of Flemish Baroque tradition. His unique and immensely popular Baroque style emphasized movement, color, and sensuality, which followed the immediate, dramatic artistic style promoted in the Counter-Reformation.
His nudes of various biblical and mythological women are especially well-known. Painted in the Baroque tradition of depicting women as soft-bodied, passive, and highly sexualized beings, his nudes emphasize the concepts of fertility, desire, physical beauty, temptation, and virtue. Skillfully rendered, these paintings of nude women were undoubtedly created to appeal to his largely male audience of patrons. Additionally, Rubens was quite fond of painting full-figured women, giving rise to terms like "Rubensian" or "Rubenesque" (sometimes "Rubensesque")."
From Wikipedia
Exhibitions:
Personal exhibition "JazzArt". 2018. Lithuania. EU.
Media:
What hangs in museums. Above Art Magazine. 28 Jan 2019 (Illustration)
The world of woman in the paintings of Akrolesta. Cosmo Lady Magazine. March 2019. pp 108-109. (Illustration)
The history of art in Akrolesta's paintings. Homsk media. 17 April 2019. (Illustration)
JazzArt - improvisations on the themes of the great painters. Discours magazine. 23 April 2019 (Illustration)
The history of art in Akrolesta's paintings. Miscellany Artifex. 24 April 2019 (Illustration)
From the history of painting. Culture and art. 10 July 2019 (Illustration)
Art Stories from Akrolesta. Syg.ma. 7 September 2019 (Illustration)