Portrait of Rene Magritte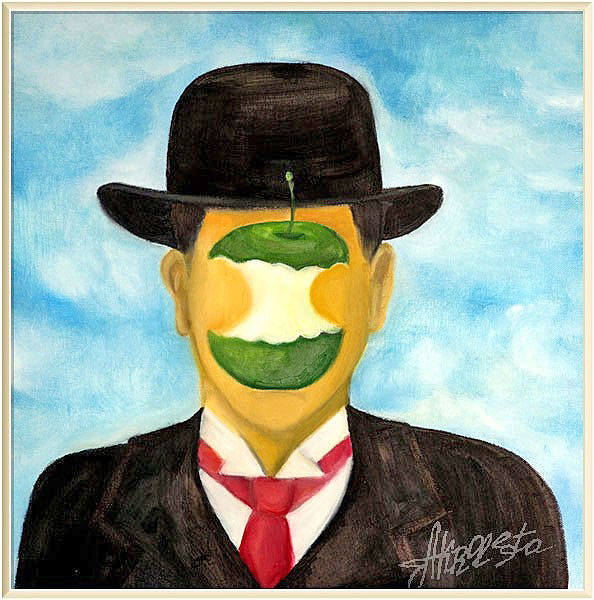 Oil, canvas 50x50. 2017-2018
Rene Magritte was the greatest artist of the 20th century. Every artist who worked after him took a bit of Magritte. Therefore, only an apple stump left.
"René François Ghislain Magritte (21 November 1898 – 15 August 1967) was a Belgian surrealist artist. He became well known for creating a number of witty and thought-provoking images. Often depicting ordinary objects in an unusual context, his work is known for challenging observers" preconditioned perceptions of reality. His imagery has influenced pop, minimalist and conceptual art.
The Son of Man (French: Le fils de l"homme) is a 1964 painting by the Belgian surrealist painter René Magritte. It is perhaps his most well-known artwork.
Magritte painted it as a self-portrait. The painting consists of a man in an overcoat and a bowler hat standing in front of a low wall, beyond which is the sea and a cloudy sky. The man"s face is largely obscured by a hovering green apple.
About the painting, Magritte said:
At least it hides the face partly well, so you have the apparent face, the apple, hiding the visible but hidden, the face of the person. It"s something that happens constantly. Everything we see hides another thing, we always want to see what is hidden by what we see. There is an interest in that which is hidden and which the visible does not show us. This interest can take the form of a quite intense feeling, a sort of conflict, one might say, between the visible that is hidden and the visible that is present." (From Wikipedia)
Exhibitions:
Personal exhibition "JazzArt". 2018. Lithuania. EU.
Personal exhibition "SmartArt". 2021. Lithuania. EU.
Personal exhibition Ironic homage. 2021. Ukmerge, Lithuania.
Media:
In search of meaning. Above Art Magazine. 16 Jan 2019 (Illustration)
The history of art in Akrolesta's paintings. Homsk media. 17 April 2019. (Illustration)
JazzArt - improvisations on the themes of the great painters. Discours magazine. 23 April 2019 (Illustration)
The history of art in Akrolesta's paintings. Miscellany Artifex. 24 April 2019 (Illustration)
From the history of painting. Culture and art. 10 July 2019 (Illustration)
Interview with Akrolesta. In search of meaning. Medium. 23 august 2019. (Illustration)
Art Stories from Akrolesta. Syg.ma. 7 September 2019 (Illustration)
Bendravimo būdas, kuriam nereikia vertėjo. Vilkmerge. 2021-04-03 (Illustration)
Smart art by Akrolesta: art is communication that doesn't need translation. DELFI. March 28, 2021 (Illustration)
Naujos Akrolestos parodos. Vilkmerge. 2021-09-26