Portrait of Salvador Dali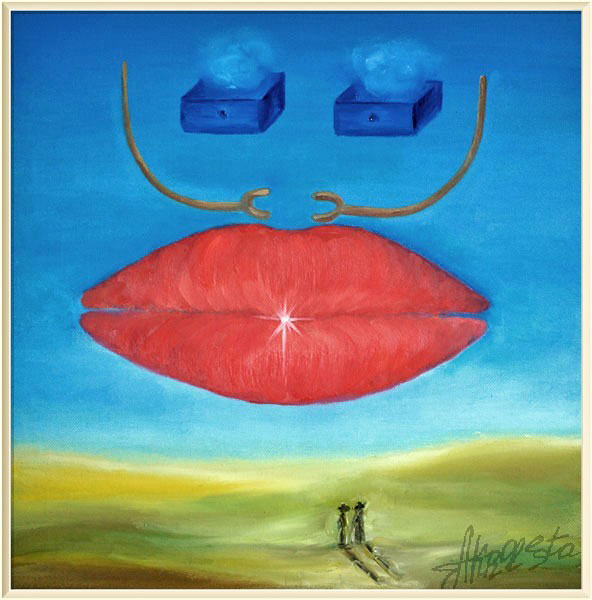 Oil, canvas 40x40. 2017-2018
Salvador Dali was one of the most famous surrealists. Well-known signs of his paintings are the objects hanging in the air, boxes that extend from the body, props in the form of crutches. Dali came up with a sofa in the shape of his lips. And Dali wore a thin long mustache, which twisted up like lobsters do.
"Salvador Domingo Felipe Jacinto Dalí i Domènech, Marquis of Dalí de Púbol (11 May 1904 – 23 January 1989), known professionally as Salvador Dalí, was a prominent Spanish (Catalan) surrealist born in Figueres, Catalonia, Spain.
Dalí was a skilled draftsman, best known for the striking and bizarre images in his surrealist work. Dalí"s expansive artistic repertoire included film, sculpture, and photography, in collaboration with a range of artists in a variety of media.
Dalí was highly imaginative, and also enjoyed indulging in unusual and grandiose behavior. His eccentric manner and attention-grabbing public actions sometimes drew more attention than his artwork, to the dismay of those who held his work in high esteem, and to the irritation of his critics."
(From Wikipedia)
Exhibitions:
Personal exhibition "JazzArt". 2018. Lithuania. EU.
Personal exhibition "SmartArt". 2021. Lithuania. EU.
Personal exhibition Without frames. 2021. Ukmerge, Lithuania. EU.
Personal exhibition "Retrospective. Favorites." 2021. Lithuania. EU.
Media:
The history of art in Akrolesta's paintings. Homsk media. 17 April 2019. (Illustration)
JazzArt - improvisations on the themes of the great painters. Discours magazine. 23 April 2019 (Illustration)
The history of art in Akrolesta's paintings. Miscellany Artifex. 24 April 2019 (Illustration)
Worlds of Akrolesta. Culture and art 14 May 2019 (Illustration)
The constellation Akrolesta. Syg.ma. 19 May 2019 (Illustration)
Treasures of Akrolesta. Homsk. 20 May 2019 (Illustration)
From the history of painting. Culture and art. 10 July 2019 (Illustration)
Akrolesta's collections. Teletype. 24 August 2019. (Illustration)
Art Stories from Akrolesta. Syg.ma. 7 September 2019 (Illustration)
Bendravimo būdas, kuriam nereikia vertėjo. Vilkmerge. 2021-04-03 (Illustration)
Smart art by Akrolesta: art is communication that doesn't need translation. DELFI. March 28, 2021 (Illustration)
Naujos Akrolestos parodos. Vilkmerge. 2021-09-26
Parodoje "Retrospektyva. Mėgstamiausi" pristatomi Akrolestos darbai. Vilkmerge. 2021-10-13
Russian expatriate opens exhibition in Ukmerge. DELFI, October 18, 2021
"Ретроспектива. Избранное"... DELFI, 21 октября 2021 г.
Искусство - свобода слова. LRT. Интервью и обзор выставки. 27.11.2021 (TV)