Pacific: What's happening in this world?!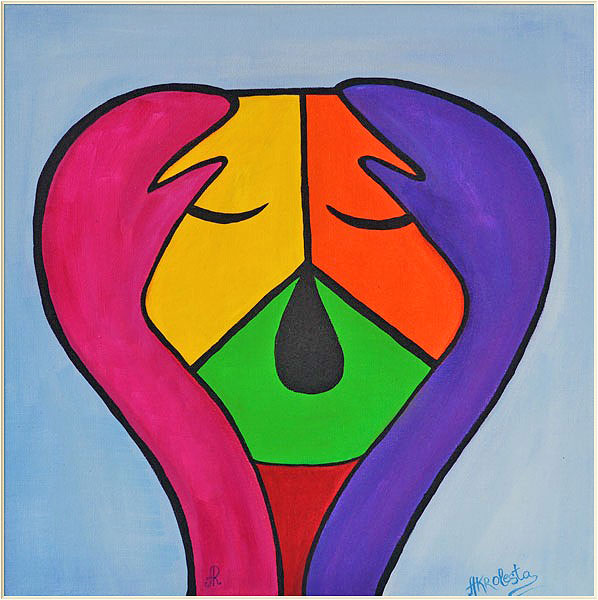 40x40cm, acrylic, canvas. 2017
A symbol of peace. The hippies call it Pacifik. A colored circle with eyes and mouth. He put his head in his hands. The symbol of the world is terrified by the actions of people.
Pacifik - the symbol of peace - grabbed his head in horror at what he sees today on Earth.
"Gerald Herbert Holtom (1914 – 1985) was a British artist and designer. He designed the ND logo ("pacific"), which was adopted, non-exclusively, by the British Campaign for Nuclear Disarmament (CND), and became an international peace symbol.
On 21 February 1958 he designed the nuclear disarmament logo for the first Aldermaston March, organised by the Direct Action Committee against Nuclear War (DAC) in Easter 1958 (4–7 April).
The logo was not copyrighted and later became known in the wider world as a general-purpose peace symbol. The design was a combination of the letters "N" (two arms outstretched pointing down at 45 degrees) and "D" (one arm upraised above the head) of the flag semaphore alphabet, standing for nuclear disarmament."
Wikipedia
Literature
In search of meaning. Above Art Magazine. 16 Jan 2019 (Illustration)
Interview with the artist Akrolesta. Above Art Magazine. 29 March 2019 (Illustration)
Likes and lives. Magazine "Cosmo lady". April 2019. pp 116-117. (Illustration)
Likes and lives. Med2000. 12 April 2019. (Illustration)
The history of art in Akrolesta's paintings. Homsk media. 17 April 2019. (Illustration)
JazzArt - improvisations on the themes of the great painters. Discours magazine. 23 April 2019 (Illustration)
The history of art in Akrolesta's paintings. Miscellany Artifex. 24 April 2019 (Illustration)
Evil is absence of kindness. Homsk media. 25 May 2019. (Illustration)
Akrolesta's method. Sig.ma 27 May 2019. (Illustration)
Mirror of the world. Culture and art. 01 June 2019 (Illustration)
Smart paintings. Homsk media. 07 June 2019 (Illustration)
Interview with Akrolesta. Culture and art. 21 June 2019 (Illustration)
Reflections of the artist. Homsk media. 29 June 2019 (Illustration)
From the history of painting. Culture and art. 10 July 2019 (Illustration)
Reflections of the world. Syg.ma. 28 July 2019 (Illustration)
Interview with Akrolesta. In search of meaning. Medium. 23 august 2019. (Illustration)
Art Stories from Akrolesta. Syg.ma. 7 September 2019 (Illustration)
Art for the brain. Culture and art. 5 October 2019. (Illustration)