Piero Manzoni gives a message from Joseph Beuys to Andy Warhol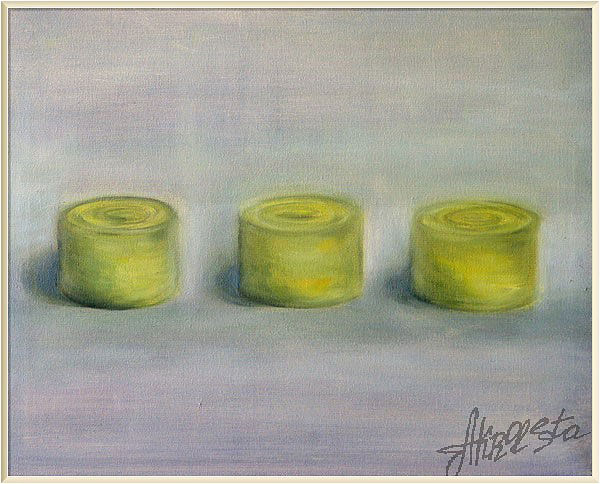 Oil, canvas, 50x40. 2018
Piero Manzoni was an Italian provocateur artist who invented jars with the "product of the artist". Manzoni ironically mocked commercial art balancing on the brink of kitsch. Including pop art, the most vivid representative of which was Andy Warhol.
Joseph Beuys was one of the most profound artists of the 20th century. The philosopher of art. Humor and intelligence of this three famous artists inspired me to creat the painting.
"Meroni Manzoni di Chiosca e Poggiolo, better known as Piero Manzoni (July 13, 1933 – February 6, 1963) was an Italian artist best known for his ironic approach to avant-garde art. Manzoni is most famous for a series of artworks that call into question the nature of the art object, directly prefiguring Conceptual Art. His work eschews normal artist"s materials, instead using everything from rabbit fur to human excrement in order to "tap mythological sources and to realize authentic and universal values".
His work is widely seen as a critique of the mass production and consumerism that was changing Italian society (the Italian economic miracle) after World War II.
Artist"s Shit
In May 1961 Manzoni created 90 small cans, sealed with the text Artist"s Shit (Merda d"Artista). Each 30-gram can was priced by weight based on the current value of gold (around $1.12 a gram in 1960).
The contents of the cans remain a much-disputed enigma, since opening them would destroy the value of the artwork. In the following years, the cans have spread to various art collections all over the world and netted large prices, far outstripping inflation. A tin was sold for € 124,000 at Sotheby"s on May 23, 2007; in October 2008 tin 83 was offered for sale at Sotheby"s with an estimate of £ 50–70,000. It sold for £97,250. It was described as:
"It is a joke, a parody of the art market, and a critique of consumerism and the waste it generates." - Stephen Bury
On October 16, 2015, tin 54 was sold at Christies for the astonishing sum of £182,500. The tins were originally to be valued according to their equivalent weight in gold – $37 each in 1961 – with the price fluctuating according to the market.

Andy Warhol (born Andrew Warhola, 1928 – 1987) was an American artist, director and producer who was a leading figure in the visual art movement known as pop art. His works explore the relationship between artistic expression, celebrity culture, and advertising that flourished by the 1960s, and span a variety of media, including painting, silkscreening, photography, film, and sculpture. Some of his best known works include the silkscreen paintings Campbell"s Soup Cans (1962).
For his first major exhibition, Warhol painted his famous cans of Campbell"s soup, which he claimed to have had for lunch for most of his life. A 1964 Large Campbell's Soup Can was sold in a 2007 Sotheby"s auction to a South American collector for £5.1 million ($7.4 million).
Andy Warhol"s first New York solo pop art exhibition was hosted at Eleanor Ward"s Stable Gallery November 6–24, 1962. The exhibit included the works Marilyn Diptych, 100 Soup Cans, 100 Coke Bottles, and 100 Dollar Bills.
By the beginning of the 1960s, pop art was an experimental form that several artists were independently adopting; some of these pioneers, such as Roy Lichtenstein, would later become synonymous with the movement. Warhol, who would become famous as the "Pope of Pop", turned to this new style, where popular subjects could be part of the artist"s palette.
It was during the 1960s that Warhol began to make paintings of iconic American objects such as dollar bills, mushroom clouds, electric chairs, Campbell"s Soup Cans, Coca-Cola bottles, celebrities such as Marilyn Monroe, Elvis Presley, Marlon Brando, Troy Donahue, Muhammad Ali, and Elizabeth Taylor. His work became popular and controversial. Warhol had this to say about Coca-Cola:
"What"s great about this country is that America started the tradition where the richest consumers buy essentially the same things as the poorest. You can be watching TV and see Coca-Cola, and you know that the President drinks Coca-Cola, Liz Taylor drinks Coca-Cola, and just think, you can drink Coca-Cola, too. A Coke is a Coke and no amount of money can get you a better Coke than the one the bum on the corner is drinking. All the Cokes are the same and all the Cokes are good. Liz Taylor knows it, the President knows it, the bum knows it, and you know it."
A 2009 article in The Economist described Warhol as the "bellwether of the art market".

Joseph Beuys (1921 – 1986) was a German Fluxus, happening, and performance artist as well as a sculptor, installation artist, graphic artist, art theorist, and pedagogue.
His extensive work is grounded in concepts of humanism, social philosophy and anthroposophy; it culminates in his "extended definition of art" and the idea of social sculpture as a gesamtkunstwerk, for which he claimed a creative, participatory role in shaping society and politics. His career was characterized by open public debates on a very wide range of subjects including political, environmental, social and long term cultural trends. He is widely regarded as one of the most influential artists of the second half of the 20th century."

From Wikipedia

"Unschlitt" (1977), 20 tons of tallow fat.
"Beuys's art is about finding that potential energy, or creativity, hidden among the disregarded crevices of everyday, modern life. Unschitt (Tallow) is a work in which 20 tons of beef fat was cast in the hollow of a pedestrian underpass. These giant yellowed blocks have a solid, industrial presence and a faintly greasy smell, though at the same time they are organic and delicate, with thin wires measuring the temperature inserted at various points as a stern reminder that the viewer's body temperature could cause the work to melt slightly. This work, like Beuys's persona, balances on these contradictions. It is literally the manifestation the potential of public space, and also a testament to empty space slowly being wasted.
Beuys believed in the universality of creativity, and that the ability to create indicated a person's participation in society. His works are often arrangements rather than creations, found objects, mass-produced objects, multiples of the same work. This serves a contradictory double function: firstly making art less sanctified and institutionalized by undoing the illusion of originality, and secondly generating more profit for Beuys. This paradox, both frustrating and playful, is just one of many that can be seen in his works and identity (the two being almost impossible to separate)."
FROM Article by Alena Sokhan (berlinartlink.com)
Exhibitions:
Personal exhibition "JazzArt". 2018. Lithuania. EU.
Media:
What hangs in museums. Above Art Magazine. 28 Jan 2019 (Illustration)
Interview with the artist Akrolesta. Above Art Magazine. 29 March 2019 (Illustration)
The history of art in Akrolesta's paintings. Homsk media. 17 April 2019. (Illustration)
JazzArt - improvisations on the themes of the great painters. Discours magazine. 23 April 2019 (Illustration)
The history of art in Akrolesta's paintings. Miscellany Artifex. 24 April 2019 (Illustration)
From the history of painting. Culture and art. 10 July 2019 (Illustration)
Art Stories from Akrolesta. Syg.ma. 7 September 2019 (Illustration)