In search of happiness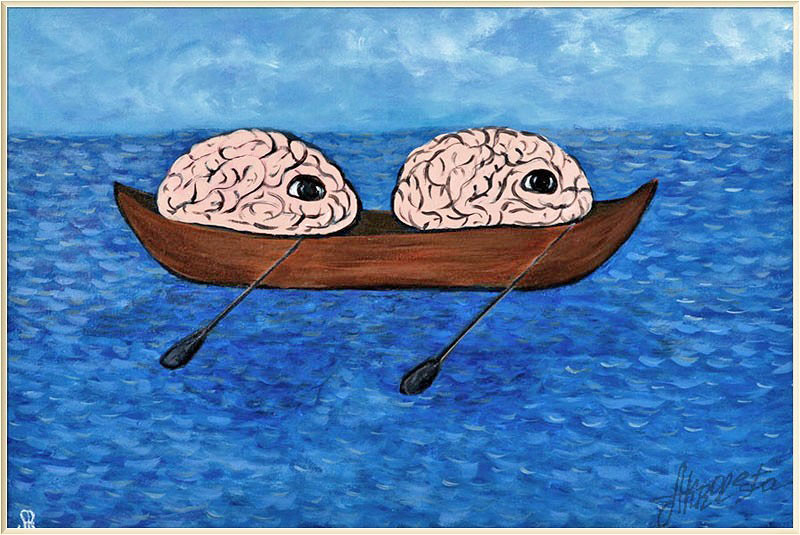 Acril 60x40. 2017
This symbolic picture has several meanings. This is the family or partners who move, row in the same direction, helping each other.
These are also immigrants sailing on the endless sea in search of self-realization, a safe or better life. It is also a "brain drain", when, according to Blaise Pascal's label, "If 300 scientists leave France, it will turn into a country of idiots." And France can be substituted into any other country.
Exhibitions:
Personal exhibition "View". 2017. Lithuania. EU.
Personal exhibition "Retrospective. Favorites." 2021. Lithuania. EU.
Media:
Rusų pora Maskvą iškeitė į Ukmergę: kol valdžia nepasikeis, negrįšime. 15min.lt. Lithuania. 20 April 2017. (Illustration)
SmartArt: fashion on brains. SuperStyle. 04 jul 2017 (Illustration)
Clever paintings: an interview with artist Tatyana Sokolova. Zagge.ru Russia 10.07.2017. (Illustration)
Maskvietė gyvena ir kuria Ukmergėje. Ukmergės žinios Lithuania 20 July 2017. (Illustration)
Paintings-aphorisms - talking paintings by Tatiana Sokolova. Moiarussia.ru Russia 7 Dec 2017. (Illustration)
Clever paintings: an interview with artist Tatyana Sokolova. Surfingbird. (Illustration)
Ironical paintings by Tatiana Sokolova. Zentribe.ru Russia 26.01.2018. (Illustration)
Paintings-aphorisms - talking paintings by Tatiana Sokolova. Media Mag catalog. (Illustration)
Ironical paintings by Tatiana Sokolova. Gudelnews. Bulgaria. 03.2018. (Illustration)
Visualization of the invisible. Magazine "Cosmo lady". Ukraine. June 2018. pp 110-112. (Illustration)
In search of meaning. Above Art Magazine. 16 Jan 2019 (Illustration)
"Like's" defects. Habr. 5 March 2019. (Illustration)
Akrolesta - symbols and allegories in the art of the 21st century. Iskusstvo.pro. 29 March 2019 (Illustration)
Akrolesta - symbols and allegories in the art of the 21st century. Miscellany Artifex. 16 April 2019 (Illustration)
Symbols of Akrolesta. Syg.ma. 18 April 2019 (Illustration)
Mirror of the world. Culture and art. 01 June 2019 (Illustration)
Smart paintings. Homsk media. 07 June 2019 (Illustration)
Reflections of the artist. Homsk media. 29 June 2019 (Illustration)
Visualization of the invisible. Woman's Era Magazine. July 2019. pp 112-114. (Illustration)
Visualization of the invisible. Culture and art. 8 August 2019. (Illustration)
Reflections of the world. Syg.ma. 28 July 2019 (Illustration)
Interview with Akrolesta. In search of meaning. Medium. 23 august 2019. (Illustration)
Visualization of the invisible. Homsk media. 31 August 2019 (Illustration)
Visualization of the invisible. Syg.ma. 3 Oktober 2019. (Illustration)
Art for the brain. Culture and art. 5 October 2019. (Illustration)
Century of symbols. Culture and art. 1 November 2019. (Illustration)
Art for the mind. Discours magazine. 08 January 2020 (Illustration)
Parodoje "Retrospektyva. Mėgstamiausi" pristatomi Akrolestos darbai. Vilkmerge. 2021-10-13
"Ретроспектива. Избранное"... DELFI, 21 октября 2021 г.
Akrolestos retrospektyva. Ukmergės renginių anonsai. 23 October 2021 г.
Искусство - свобода слова. LRT. Интервью и обзор выставки. 27.11.2021 (TV)
Татьяна Соколова: Искусство – это свобода слова. LRT новости. 2021.11.28