The Halo (Reach The Light)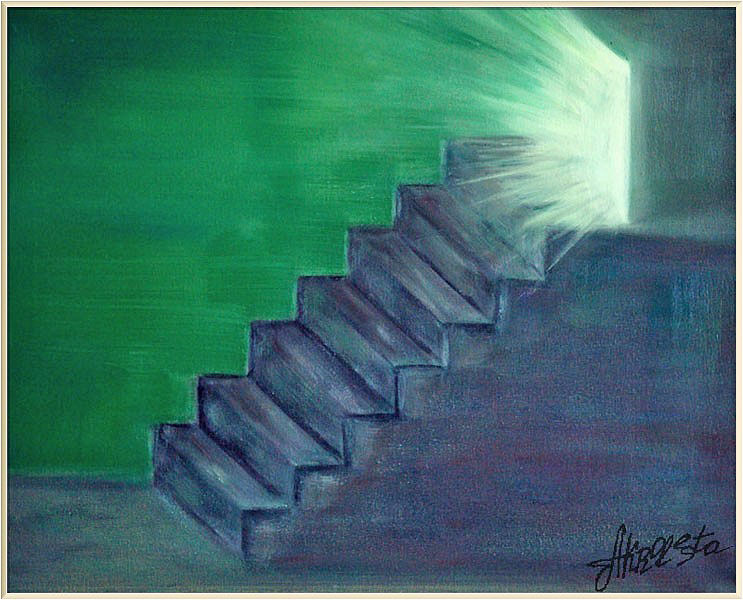 50x40cm, oil, canvas. 2017-2018
It is hard to go,
Dirty stairs, dark road.
I keep try and climb
I have light in eyes.
The road to light often begins in darkness. But everyone can find a way to their radiance, even from the darkest cave. It is necessary to rise yourself every day to a new step.
Literature
Rusų pora Maskvą iškeitė į Ukmergę: kol valdžia nepasikeis, negrįšime. 15min.lt. Lithuania 20 April 2017. (Illustration)
Clever paintings: an interview with artist Tatyana Sokolova. Zagge.ru Russia 10.07.2017. (Illustration)
Clever paintings: an interview with artist Tatyana Sokolova. Surfingbird. (Illustration)
In search of meaning. Above Art Magazine. 16 Jan 2019 (Illustration)
"Like's" defects. Habr. 5 March 2019. (Illustration)
Interview with the artist Akrolesta. Above Art Magazine. 29 March 2019 (Illustration)
Akrolesta - symbols and allegories in the art of the 21st century. Iskusstvo.pro. 29 March 2019 (Illustration)
Likes and lives. Magazine "Cosmo lady". April 2019. pp 116-117. (Illustration)
Akrolesta - symbols and allegories in the art of the 21st century. Miscellany Artifex. 16 April 2019 (Illustration)
Symbols of Akrolesta. Syg.ma. 18 April 2019 (Illustration)
Smart paintings. Homsk media. 07 June 2019 (Illustration)
Interview with Akrolesta. In search of meaning. Medium. 23 august 2019. (Illustration)
Art for the brain. Culture and art. 5 October 2019. (Illustration)
Century of symbols. Culture and art. 1 November 2019. (Illustration)
Art for the mind. Discours magazine. 08 January 2020 (Illustration)