Two worlds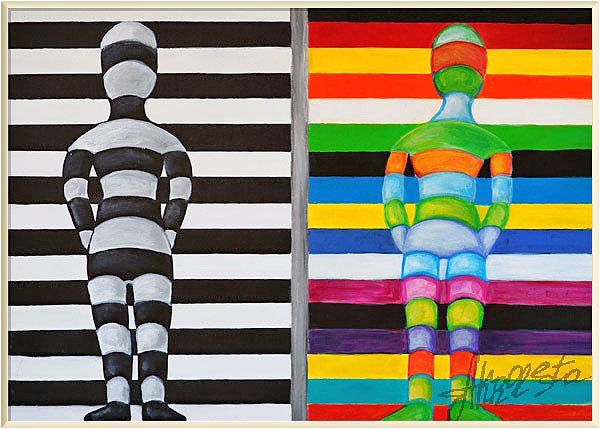 Canvas, 70x50, acrylic. 2017
Two different worlds. Two ways of thinking.
Black and white. Own and alien. Tough.
Multicolor - allowing different views, different opinions, different behavior.
In which world is more pleasant to live?
Два разных мира. Два способа мышления.
Черно-белое, как свой и чужой. Жесткое.
Многоцветное - допускающее разные взгляды, разное мнение, разное поведение.
В каком мире приятнее о веселее жить?
Literature
Maskvietė gyvena ir kuria Ukmergėje. Ukmergės žinios Lithuania 20 July 2017. (Illustrated)
Anykščių šventėje patiesti gėlių kilimai. Ukmergės žinios. Lithuania 02 Aug 2017. (Illustrated)
Paintings-aphorisms - talking paintings by Tatiana Sokolova. Moiarussia.ru Russia 7 Dec 2017. (Illustrated)
Paintings-aphorisms - talking paintings by Tatiana Sokolova. Media Mag catalog. (Illustrated)
Impasse of feminism. Magazine "Cosmo lady". Ukraine. Feb 2019. pp 100-103. (Illustrated)
Feminism in the work of artist Akrolesta. Above Art Magazine. 06 Feb 2019. (Illustrated)