Marc Chagall's violin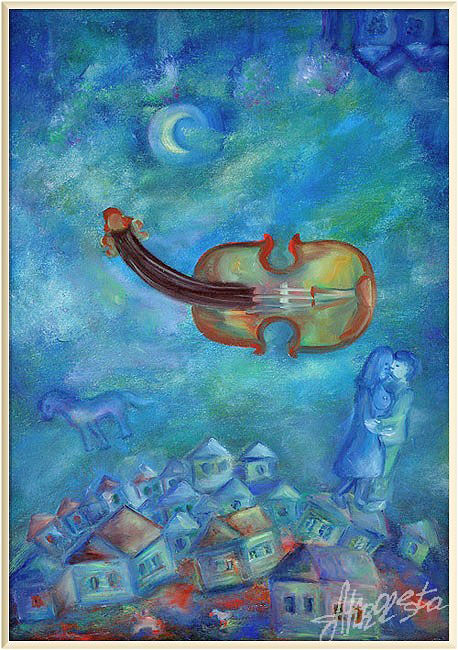 Oil, canvas, 50x70. 2017-2018
Marc Chagall created his own unique style combining sadness and fun, flying people and a violinist dancing on doll houses. Chagall's world could easily turn upside down, goats and chickens could walk across the sky.
Chagall's paintings are akin to poems written by brushes and paints on canvas.

Марк Шагал создал свой неповторимый стиль сочетающий грусть и веселье, летающих в небе людей и скрипача, танцующего на кукольных домиках. У Шагала мир легко мог перевернуться вверх ногами, где козы и куры начинали ходить по небу.
Картины Шагала сродни стихам, написанным кистями и красками на холсте.
"Marc Zakharovich Chagall (born Moishe Zakharovich Shagal 1887 – 1985) was a Russian-French artist of Belarusian Jewish origin. An early modernist, he was associated with several major artistic styles and created works in virtually every artistic format, including painting, book illustrations, stained glass, stage sets, ceramic, tapestries and fine art prints.
Art critic Robert Hughes referred to Chagall as "the quintessential Jewish artist of the twentieth century" (though Chagall saw his work as "not the dream of one people but of all humanity").
He had two basic reputations, writes Lewis: as a pioneer of modernism and as a major Jewish artist. He experienced modernism's "golden age" in Paris, where "he synthesized the art forms of Cubism, Symbolism, and Fauvism, and the influence of Fauvism gave rise to Surrealism". Yet throughout these phases of his style "he remained most emphatically a Jewish artist, whose work was one long dreamy reverie of life in his native village of Vitebsk." "When Matisse dies," Pablo Picasso remarked in the 1950s, "Chagall will be the only painter left who understands what colour really is."
It was not until 1927 that Chagall made his name in the French art world, when art critic and historian Maurice Raynal awarded him a place in his book Modern French Painters. However, Raynal was still at a loss to accurately describe Chagall to his readers:
Chagall interrogates life in the light of a refined, anxious, childlike sensibility, a slightly romantic temperament ... a blend of sadness and gaiety characteristic of a grave view of life. His imagination, his temperament, no doubt forbid a Latin severity of composition.
Chagall developed a whole repertoire of quirky motifs: ghostly figures floating in the sky, ... the gigantic fiddler dancing on miniature dollhouses, the livestock and transparent wombs and, within them, tiny offspring sleeping upside down. The majority of his scenes of life in Vitebsk were painted while living in Paris, and "in a sense they were dreams", notes Lewis. Their "undertone of yearning and loss", with a detached and abstract appearance, caused Apollinaire to be "struck by this quality", calling them "surnaturel!" His "animal/human hybrids and airborne phantoms" would later become a formative influence on Surrealism. Chagall, however, did not want his work to be associated with any school or movement and considered his own personal language of symbols to be meaningful to himself. But Sweeney notes that others often still associate his work with "illogical and fantastic painting", especially when he uses "curious representational juxtapositions". Sweeney writes that "This is Chagall's contribution to contemporary art: the reawakening of a poetry of representation, avoiding factual illustration on the one hand, and non-figurative abstractions on the other". André Breton said that "with him alone, the metaphor made its triumphant return to modern painting." (Wiki)
Literature
In search of meaning. Above Art Magazine. 16 Jan 2019 (Illustrated)