Portrait of the Hat of John Anthony Baldessari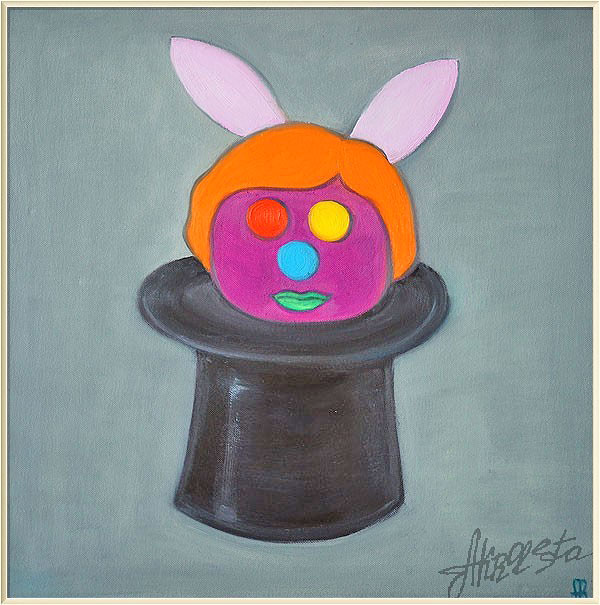 Oil, canvas, 50x50. 2018
John Baldessari is a great experimental artist.
Baldessari is full with ideas.
He gets them out of his head like a magician gets the rabbits out of his hat.

ƒжон Ѕалдессари - великий художник-экспериментатор.
Ѕальдессари фонтанирует иде€ми.
Ѕальдессари вынимает идею за идеей, как фокусник кроликов из своей шл€пы.
» Ѕальдессари обещал Ђбольше никогда не делать скучного искусстваї.
"John Anthony Baldessari (born June 17, 1931) is an American conceptual artist known for his work featuring found photography and appropriated images. He lives and works in Santa Monica and Venice, California.
Initially a painter, Baldessari began to incorporate texts and photography into his canvases in the mid-1960s. In 1970 he began working in printmaking, film, video, installation, sculpture and photography. He has created thousands of works that demonstrate-and, in many cases, combine-the narrative potential of images and the associative power of language within the boundaries of the work of art."
(From wikipedia)

"A pivotal gesture for Baldessari-he says it marks when he stopped being a painter and started to follow DuchampТs lead-was the 1970 Cremation Project, in which he burnt all the abstract paintings he had made between 1955 and 1963...
Many of the concepts he was exploring-conflating painting and photography, questioning authorial prerogatives, co-opting found images-have continued to animate his work. An inveterate rule-breaker and a Уcloset formalist,Ф he likes to say that Уthe esthetic takes care of itself.Ф
(Karen Wright for artinamericamagazine.com)

"Baldessari has made a career out of upsetting priorities and defying expectations.
Baldessari reinvented conceptualism, in his own vein of laid-back, irreverent humor. УEverything Is Purged from This Painting But Art, No Ideas Have Entered This Work,Ф another of his text paintings proclaims-conceptual art mocking conceptual art. УDonТt do any beautiful calligraphy,Ф Baldessari had told the sign painter. УI just want this to be information.Ф
In the eighties, Baldessari began painting out faces, bodies, and large areas of photographs, challenging viewers to fill in the blanks, and then, to his endless delight, he discovered the round, colored price stickers that stores put on their products. To see Rotarians, garden-club ladies, or B-movie actors with red, yellow, or blue dots instead of faces suggests satiric or humorous intent, but Baldessari says that was not what he had in mind. УIf I were trying to be funny, I wouldnТt be doing this,Ф he said. He believes that getting rid of faces allows viewers to focus on body language, stance, and other things they might not have noticed otherwise. УWhatТs the average time a person looks at a painting-seven seconds? I want to get them hooked. I have to raise the bar in such a way that theyТre not going to get it, but they want to get it. Do I do that? At times, not very often. But thatТs what I aim for.Ф
In a 2005 exhibition of his early work (1962-84) at a museum in Vienna, Baldessari saw УGod Nose,Ф which his sister still owns, for the first time in many years. Not long afterward, he began a new series of paintings derived from photographs-overpainted with acrylicic, no texts-called УNoses & Ears, Etc.Ф His return to what looked like pure painting, after more than four decades, surprised everyone, but his subject-the two least expressive human features, presented in isolation on brightly colored areas of canvas, or built out in sculptural relief-was disconcerting in the familiar, Baldessarian ways. He went on to depict hands, feet, elbows, raised eyebrows, and Уfurrowed foreheadsФ-the latter mostly male because, he said, it was hard to find a woman in Los Angeles now with a furrowed forehead. Jasper Johns and other contemporary artists had used body parts in their work, but not with this kind of insouciance. УMaybe because IТm tall and gangly, IТve always considered myself an assembly of parts,Ф Baldessari told me, in the studio that day. УIТm not unified. But you donТt need to see the whole thing. Hollywood has always taken advantage of this-they show us the part, and thatТs all we need.Ф
The opening of УPure BeautyФ at the Met should put to rest any lingering misconception that Baldessari is more important as a teacher than as an artist. It should also silence critics who still donТt believe that art can be playful and serious at the same time. In his eightieth year, Baldessari is riding a wave of acclaim. He won the Golden Lion award for lifetime achievement at the 2009 Venice Biennale. Charles Saatchi, the London collector and entrepreneur, is said to have bought a cast of УBeethovenТs Trumpet.Ф Baldessari has done a big sculptural commission for the Prada Foundation, and he is making a new version of УBrain/Cloud,Ф as an indoor fountain for a space in Berlin. I asked him how it felt, after all these years, to become an art star. УThat word makes me cringe,Ф he said, cringing. УI used to wake up sometimes in a sweat, and tell myself I was just making trinkets for rich people.Ф That didnТt happen very often. УIТve always done what I want,Ф he said a little later. УLuckily, IТm blessed with a well-developed sense of absurdity-itТs what saved me.Ф
(Calvin Tomkins for The New Yorker)
Literature
In search of meaning. Above Art Magazine. 16 Jan 2019 (Illustrated)