Pan-man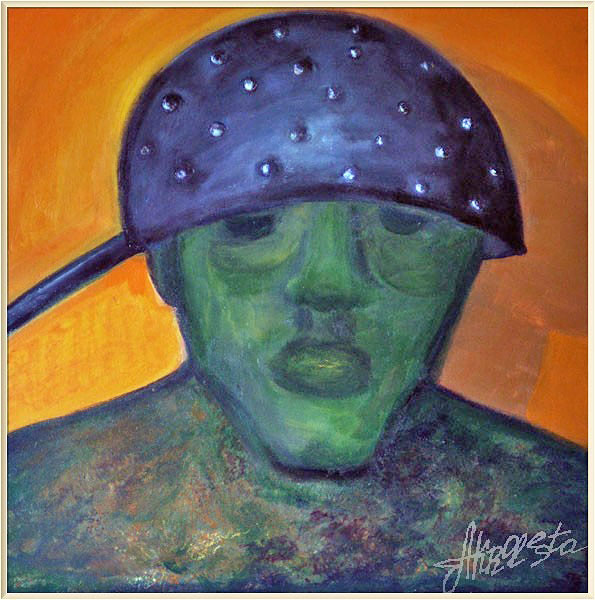 40x40cm, acrylic, canvas. 2017
If you have holes in your head you can fix them with books or studing courses
People with holes in the head don't think. They simply carry out the order.
And so it happened many times, when executing someone's order, people without heart and brain brought grief to civilians.

Люди с дырами в голове. Они не думали. Они просто выполняли приказ.
И так случалось в истории много раз, когда выполняя чей-то приказ люди без сердца и мозга несли горе мирным жителям.
Literature
Rusų pora Maskvą iškeitė į Ukmergę: kol valdžia nepasikeis, negrįšime. 15min.lt. Lithuania 20 April 2017. (Illustrated)
Clever paintings: an interview with artist Tatyana Sokolova. Zagge.ru Russia 10.07.2017. (Illustrated)
Clever paintings: an interview with artist Tatyana Sokolova. Surfingbird. (Illustrated)
Paintings-aphorisms - talking paintings by Tatiana Sokolova. Moiarussia.ru Russia 7 Dec 2017. (Illustrated)
Paintings-aphorisms - talking paintings by Tatiana Sokolova. Media Mag catalog. (Illustrated)
The eloquent silence of the artist Tatyana Sokolova. Russia Art News. Russia. 14.05.2018. (Illustrated)
In search of meaning. Above Art Magazine. 16 Jan 2019 (Illustrated)
Feminism in the work of artist Akrolesta. Above Art Magazine. 06 Feb 2019. (Illustrated)