Optimist - Artist - Pessimist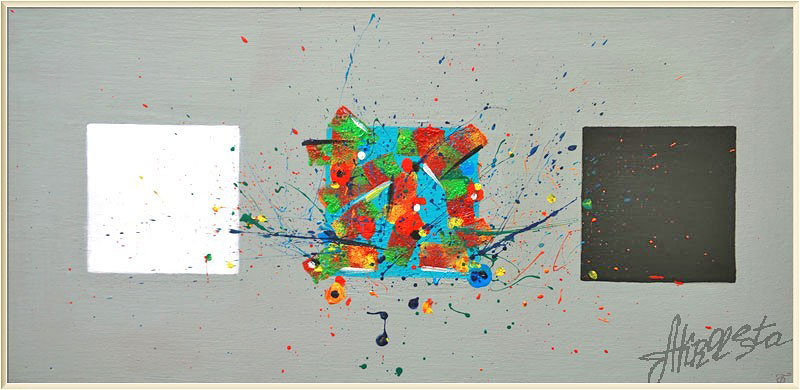 60x30cm, acrylic, canvas. 2017
You can choose your view of life. You can be all of them all at once. Feel free to choose your reaction, mood and attitude.
For the optimist, the world is bright. For the pessimist - black. And only an artist paints this world with all the colors of the rainbow. And his colors change the gray world, change pessimist and optimist.

Для оптимиста мир светлый. Для пессимиста - черный. И лишь артист раскрашивает этот мир всеми цветами радуги. И его краски меняют и серый мир, и пессимиста, и оптимиста.
Literature
Clever paintings: an interview with artist Tatyana Sokolova. Zagge.ru Russia 10.07.2017. (Illustrated)
Exhibition of paintings by Tatiana Sokolova "Look". Ukmergeskulturospuslapiai. Lithuania. 12 Jul 2017. (Illustrated)
Clever paintings: an interview with artist Tatyana Sokolova. Surfingbird. (Illustrated)
Paintings-aphorisms - talking paintings by Tatiana Sokolova. Moiarussia.ru Russia 7 Dec 2017. (Illustrated)
Ironical paintings by Tatiana Sokolova. Zentribe.ru Russia 26.01.2018. (Illustrated)
Paintings-aphorisms - talking paintings by Tatiana Sokolova. Media Mag catalog. (Illustrated)
Ironical paintings by Tatiana Sokolova. Gudelnews. Bulgaria 03.2018, (Illustrated)
In search of meaning. Above Art Magazine. 16 Jan 2019 (Illustrated)